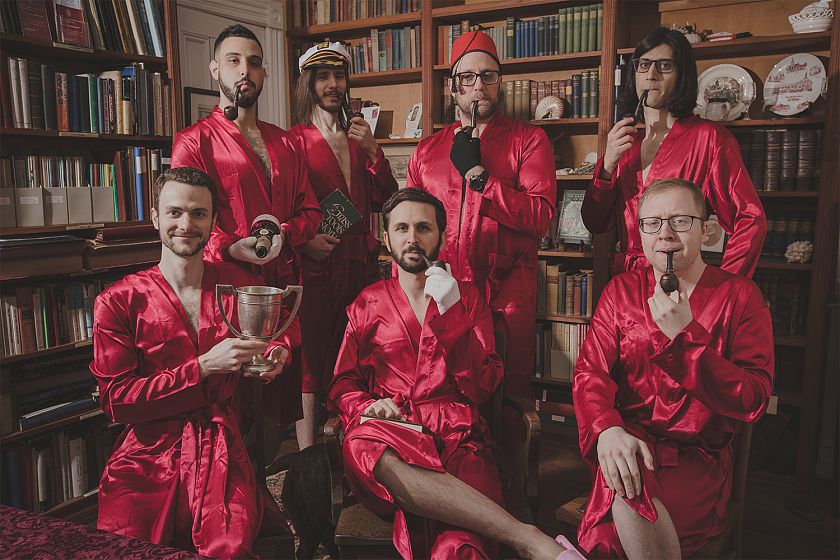 Thank You Scientist
Thank You Scientist
Thank You Scientist is an eclectic, vibrant and well-hydrated progressive rock band from New Jersey. Their latest album—Terraformer, out now—sees the boy-ish septet at their most ambitious and most unpredictable. The band has taken their experimental, genre-bending sound to the next level by delivering an extremely ambitious and constantly stimulating 84-minutes of experimental rock n' roll music. Some might even say it's the band's Oops… I Did It Again. I'm saying it right now. Terraformer is the Oops… I Did It Again of progressive rock.
Founded by guitarist and bandleader Tom Monda, the band self-released the Perils of Time Travel EP in 2011, before signing with Claudio Sanchez's label Evil Ink
Records. Their 2012 full length debut, Maps of Non-Existent Places made it onto the Billboard Hard Rock and Heatseekers charts, and was eventually named "Album of the Week" by Revolver Magazine in 2014. They followed up in 2016 with Stranger Heads Prevail, which cracked the Billboard Top 200.
Terraformer peaked at 73 on the Billboard Top 200, 15 on the Billboard Alternative Rock chart and 8 on the Billboard Heatseekers chart. The critically-acclaimed release had Metal Injection prevailing, "Terraformer is the septet's most mature, epic, challenging, and nuanced work thus far, and it's a must own for anyone who loves catchy songwriting and boundlessly creative and complex arrangements." PopMattersadded, "When it comes to blending bizarre antics, infectiously high-pitched melodies, and staggeringly technical yet tight mixes of progressive rock, jazz fusion, orchestral, and more, no one does it better than Thank You Scientist."
In addition to Tom Monda and vocalist Salvatore Marrano, the band's lineup has gradually evolved to include violinist Ben Karas, bassist Cody McCorry, drummerJoe Fadem, trumpeter Joe Gullace and saxophonist Sam Greenfield. Thank You Scientist has spent the past several years touring internationally, both as headliners and as direct support for acts such as Coheed and Cambria, Periphery, Haken, Protest the Hero and the Devin Townsend Project.
Thank You Scientist

9:00 PM - 10:00 PM

Thank You Scientist

2:15 PM - 3:30 PM

Thank You Scientist

Amory Prom Performance

8:30 PM - 9:45 PM