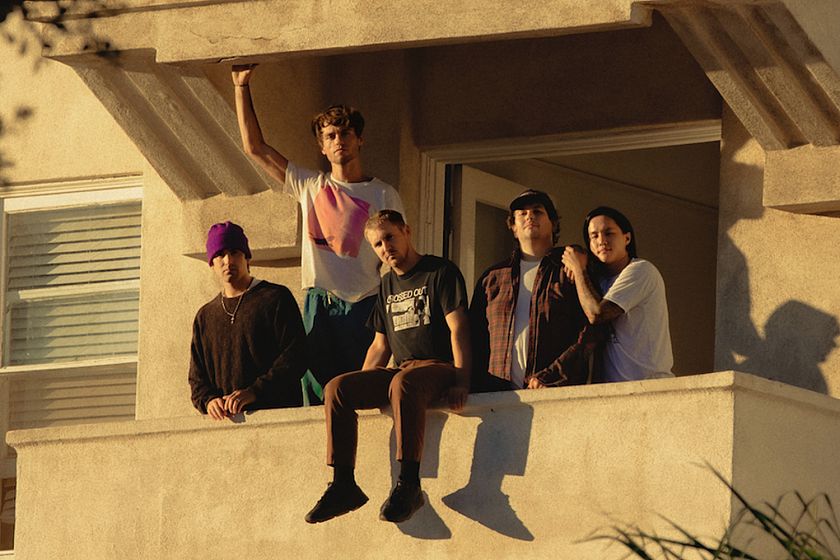 Militarie Gun
Militarie Gun
Militarie Gun can't be stopped. In just two short years since their inception, the Los Angeles-based group have been turning heads with a menacing-yet-melodic sound that's impossible to ignore and a creative drive that borders on obsession. Now Militarie Gun are teaming with Loma Vista Recordings to release All Roads Lead To The Gun (Deluxe): a collection that combines their dual 2021 EPs, All Roads Lead To The Gun and All Roads Lead To The Gun II, along with four new songs, capturing the essential first chapter of one of the most unique and prolific new bands.
Formed in 2020, Militarie Gun is defined by the musical restlessness of vocalist/mastermind Ian Shelton. "I've always been the kind of person who's very compelled to do things," he explains. "Everything suddenly becomes urgent, and that's how I feel about songwriting—it's just something I have to do when the inspiration comes." The band–whose lineup has expanded to include guitarists Nick Cogan and William Acuña, drummer Vince Nguyen, and bassist Max Epstein–draw on a wide range of influences to make something that sounds combative yet accessible, and undeniably their own. There's the unhinged guitarwork of Born Against, the propulsive cadences of hip hop, the up-front bass of Fugazi–and most importantly, the hooks. Militarie Gun's songs are instantly memorable, employing a melodic sensibility that's just as informed by the work of Robert Pollard and Paul McCartney as it is by Black Flag.
All Roads Lead To The Gun (Deluxe) provides the perfect jumping-on point for those not yet initiated into the band's world, but in Shelton's hyper-productive fashion, it also offers quite a bit of new material. The four additional tracks further expand Militarie Gun's sonic toolbox while also hinting at the limitless potential in their singular songwriting. The first of the new songs, "Let Me Be Normal," is a blast of sheer kinetic energy. "Can't Get None" and "I Can't Stand Busy People" highlight the band's ability to organically utilize completely disparate sounds; the former all pummeling rhythms and uncorked frustration, the latter an acoustic-led, multi-movement opus that barely cracks two minutes. "Pull It Out" combines all of the band's different modes into one anthemic song with primal lyrics that perfectly capture the lightning in a bottle nature of Shelton's songwriting approach. "I'm not a perfectionist," he explains. "I tend to like first drafts, it just fits my personality. Everyone is imperfect, so if a song is too, that just reflects life more."
Despite being a songwriter so clearly led by a tightly focused personal vision, Shelton is often drawn to working with other artists in a way that's uncharacteristic of the rock music world. In March of 2022, Militarie Gun joined forces with Dazy for the critically lauded collaborative single, "Pressure Cooker." Now, he's recruited guest vocalists for three of the four new songs on All Roads Lead To The Gun (Deluxe). "I Can't Stand Busy People" and "Pull It Out" both feature Woolworm vocalists Giles Roy and Heather Black, while MSPAINT vocalist Deedee provides a blistering verse on "Can't Get None." "I always want to expand the band's sound and try everything I can," Shelton explains, "but sometimes an idea just doesn't fit my voice–or maybe it could, but being a fan of someone else's voice makes me want to hear them on the song instead."
All Roads Lead To The Gun (Deluxe) marks the culimation of the group's first two years but the 12 songs make it clear that Militarie Gun's caustic-yet-catchy sound can't be easily contained within just hardcore or pop songwriting. This is an ever-evolving band can go in any direction they might want–and Militarie Gun are just getting started.