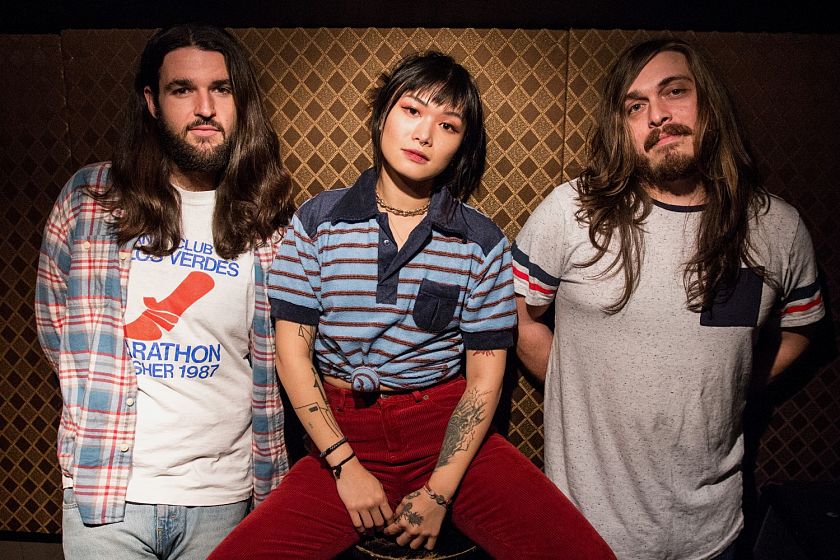 Covet
Covet
Sound and color echo one another. As colors add vibrancy and depth to art, sounds do the same for music. When the palette widens in both cases, the vision does as well. Covet magnify their musical palette on their second full-length album, technicolor [Triple Crown Records]. The San Francisco, CA trio—Yvette Young [guitar, vocals], David Adamiak [bass], and Forrest Rice [drums]—temper their signature instrumental ebb-and-flow with guitar pedal sorcery, feverish tremolo-picking, whammy bar dips, and a dreamy vocal lull. As such, these ten tracks canvas an entire sonic spectrum.
"There are so many textures and types of songs that it's a new direction for us," explains Yvette. "Some of them have a nostalgic feel. Others can be quite heavy. Technicolor traditionally is a technique used to colorize old film. In the same spirit, we're taking these sounds and developing them. The word encapsulates what we set out to do."
"The album features more colors in terms of not just the effects, but the songwriting and the rhythms," agrees David. "When you compile everything together, it's our most diverse body of work yet."
Since introducing themselves on the 2015 EP Currents, the group cultivated a fluid style and faithful fanbase. 2018's full-length debut, effloresce, elevated them to a new strata altogether. Powered by audience favorites such as "shibuya" [feat. San Holo] (2.5 million Spotify streams) and "sea dragon" [feat. Mario Camarena] (1.5 million Spotify steams), the record cumulatively tallied over 10 million total streams to date—unprecedented for a primarily instrumental act. They landed features and acclaim from Guitar World, Premier Guitar, Music Radar, She Shreds, New Noise, and more in addition to sharing the stage with everyone from Periphery, Jason Richardson, and Chon to Polyphia, Tera Melos, and Tiny Moving Parts. In late 2019, they entered Vu Du Studios in Jefferson Village, NY to record what would become technicolor alongside producers Mike Watts and Frank Mitaritonna.
This time around, Yvette employed a myriad of pedals to enhance the emotional impact. Additionally, she stepped behind the microphone to properly sing—a first for the group.
"We've never had vocals with lyrics before," affirms David. "There were some vowels hummed on Currents, but it was gratifying to add Yvette's voice like this."
"Our policy is 'Never rule anything out'," she elaborates. "We saw where the melody was going, inspiration struck, and certain songs felt like they needed singing. We had a chance to figure out what kinds of textures would come from the pedals. The approach was more intentional than before, because we were prepared to use more effects. We deliberately went 'H.A.M' with the pedals. As a result, the sound is more ambient. There's a lot more color."
That comes through on the first single "nero." The instrumental hinges on nimble fretwork and jazz-y percussion before slipping under a crunchy crescendo spurned by heavy distortion and cathartic fretboard conjurations.
"There are moments where it sounded regal, evil, and intense," she continues. "David suggested 'nero' as the name. It's sinister and possesses a lot of power. During the final section of the end, it feels like someone is ascending to another realm."
Meanwhile, "Parachute" hinges on ethereal picking that bleeds right into an entrancing vocal display from Yvette. A six-string call-and-response spirals towards lyrical phrasing during the bridge.
"It's called 'Parachute', because I was thinking about making a jump and taking a risk," she admits. "You're doing something uncomfortable or sort of scary like getting a new job or shaking up your routine. Sometimes, you've got to be brave and face a new world. It's also about realizing you're not happy in a current relationship anymore. Love isn't enough, so you embrace independence and not being tied to anyone or anything."
Both named after key characters in The Neverending Story, the propulsive "atreyu" serves as a spiritual successor to "falkor" from effloresce. On "predawn," they welcome a reverb explosion from Caspian's Philip Jamieson, adding dramatic flair.
Everything culminates on the aptly titled "farewell." Accompanied by a high school-prom set zombie outbreak fever dream video, Yevette's voice takes flight over tightly threaded clean riffing.
"I had some traumatic things happen to me, and I wanted to write a comforting song," she sighs. "The melody was really nostalgic. I wrote the lyrics as a letter to myself or anyone going through trouble. Recovering from something difficult doesn't happen overnight. You need to take it day-by-day to let go of trauma and move forward."
Ultimately, Covet welcome audiences to move forward with them once again.
"When you listen to technicolor, I want you to be transported elsewhere," Yvette leaves off. "My goal is to uplift and make you feel reflective of emotions and experience a whole spectrum."
"I second that," David concurs. "For us, technicolor was a diverse statement. I hope listeners see there are so many facets to this collective and our songwriting. Maybe they'll join us on the trip."
Covet

10:30 PM - 11:30 PM

Covet

9:30 PM - 10:30 PM

Covet

7:30 PM - 8:30 PM